My First Art Showcase
Hey Friends! 😁
Now that things have calmed down since the show, it's time to put my feelings and experience into words.  I first want to thank everyone for coming out and those who bought pieces. I totally want expecting it! And thank you again to RAW Artists for selecting me to be apart of a wonderful event!
It's Wednesday afternoon when I arrive at Stereo Live to set up my space. There are tons of artists and volunteers setting up their spaces, doing walk thrus, and sound checks. It's a creative heaven! 🤩 I can't wait to walk around, but first I have to set up myself. As I get the last piece hung up, I look at my 12 foot display in awe. I feel overwhelmed with emotion, because I've never hung up all my art in display like this. I can't believe this is happening! My first showcase! 😱😁💃🏽 And to be around so many other talented people I feel honored! I feel proud of myself.
I get dressed and pray 🙏🏾 to God for a wonderful experience.  I take time to walk around to look at everyone's booths. One artist in particular resonated with me so much Ms. Nala of The Art 2/22. Her pieces reflected various emotions that I think we all can relate to. I stood in awe for some time looking at every piece. All so different and unique but also feeling pain, sadness, chaos, and happiness all at once. Funny enough I met her in the restroom before I did my tour of the booths. And she told me she couldn't quite put herself in an artist category, she said "I just paint my feelings". 
That's what art has always meant to me. Putting yourself on the canvas and being vulnerable. For a long time I never shared it with anyone, I always kept it to myself. I thought people would know how I was feeling if they looked deep enough. But we aren't mind readers, and can't assume we know exactly what the artist is representing with abstract depictions. We can only relate it to ourselves and let it evoke feelings that we have within us.
Then the music starts and the doors open. As people arrive they look around amazed by the various displays of artwork. Eventually my friends come in at different times during the night. I even sold a few pieces! 😁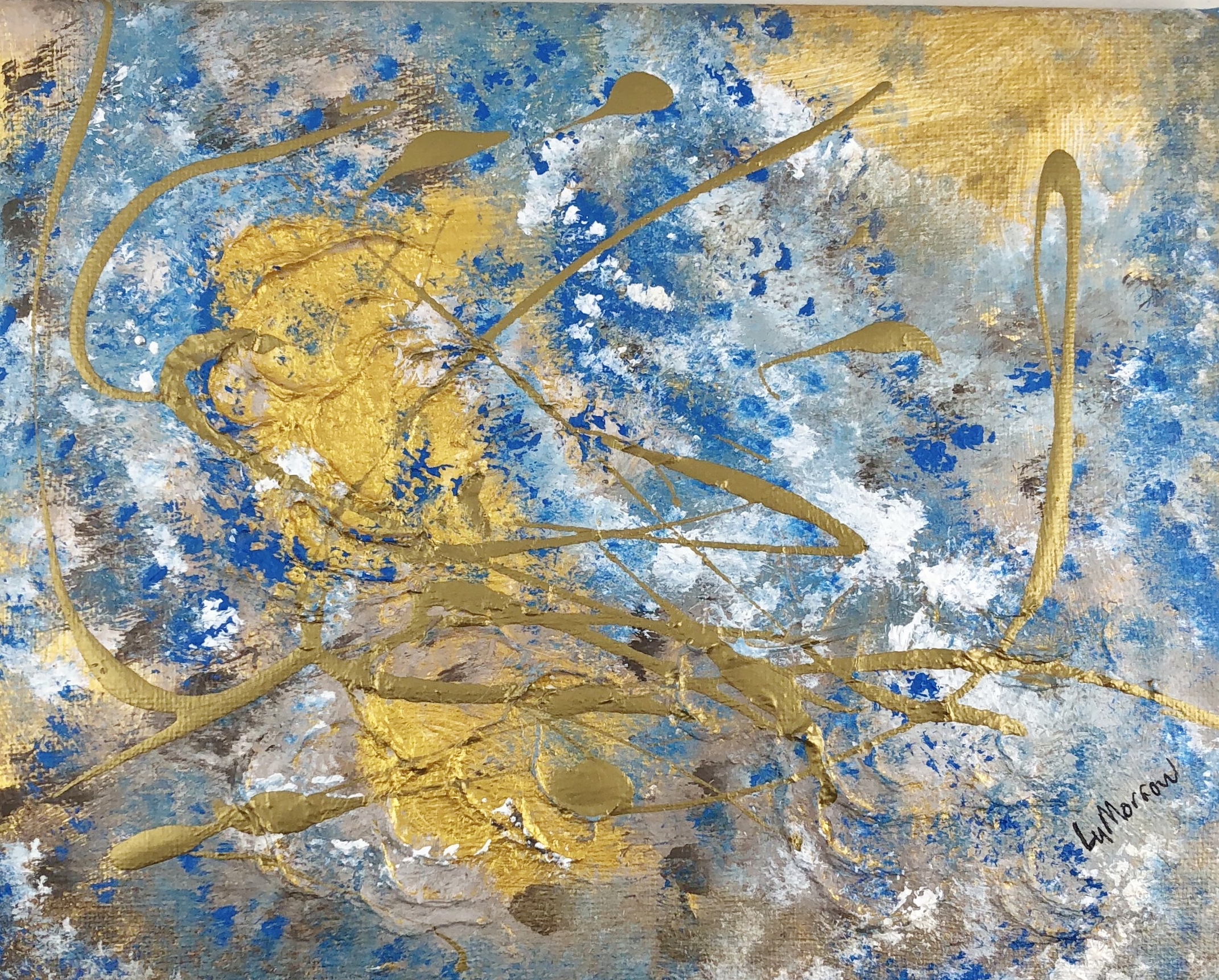 I never imagined having an opportunity like this. I think because I have always been told my art is a hobby and not something to pursue seriously. But I definitely believe you should always go after what you want. I remember an interview with Jim Carey and he talked about how his father spent his entire career doing something safe, because he had a family to support. It didn't make much sense to do that, since you can dedicate the same amount of time and effort on something you love.
Side note, Jim Carey is an amazing artist! It's so intimidating seeing his work and thinking how deep his work is and how expressive he can be with so many mediums.
I must admit I had trouble writing this post. I think because the perfectionist in me wanted to display that everything was perfect and positive vibes only. But if I'm truly going to open up on my blog, I have to be honest. I was a little disappointed, even though I didn't set any expectations. I think because I didn't get to speak to people who came by as much as I would have liked to. The music was just so loud, I wanted to sell more and get more subscribers. I truly want to grow my business as quickly as possible, but I know things happen when they're meant to.
All in all it was a good experience I learned a lot about preperation and got a chance to meet with art lovers. I'm looking forward to my next event which is at the end of this month! 
XOXO
Lu 🦄